Opportunity:  The Pope's Worldwide Prayer Network (previously known as the Apostleship of Prayer) is an international apostolate devoted to the promotion of prayer life and the Sacred Heart of Jesus. After new leadership took the helm, there was a need to promote the new brand and update their outreach efforts.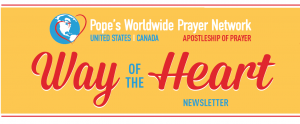 Here's how we helped:
Identity: GEM established the new look and feel for the apostolate's marketing materials.
Appeal Letter: We established an annual Appeal Letter, including the messaging and design in order to garner financial and stakeholder support.
Quarterly Monthly Newsletter: We developed a new newsletter to promote the ongoing activity of this apostolate, including regular messages from the leader.
Collateral: